I've just discovered the
Don Mills Diva
by clicking on this "Write on!" button over at
The Eleventh
(who's in my "Links I like go to" cuz she's great). Don Mills Diva's awesome, and after a crappy experience being quoted without being contacted, she's asked that her fellows write about why our writing and our blogs are worthy of respect.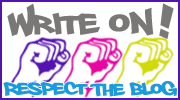 Why I blog

The one reason I write in this blog is pretty much the same reason most writers write anywhere: I have something to say. And for me, this little space is the perfect place to say it.
Through blogging I've made a couple of cool friends, and since I began, other friends have started writing in their own. I love my little venue and oftentimes, I think I need it.
I'm angry, I'm happy, I'm amused, I'm confused. That's why I write in this here blog.